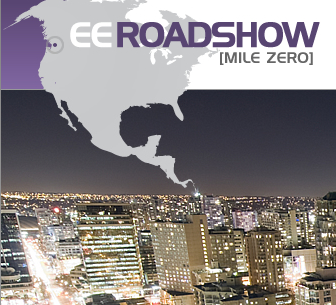 Hop Studios loves its ExpressionEngine content management tool. So much so, that we're going to evangelize just a little bit. We've pooled our enthusiasm with Boxcar Marketing and Venn Communications to host the EE Roadshow: an ExpressionEngine training event. Here's the pitch:
If you've ever wondered how to make ExpressionEngine work better for you in your job, this is the event for you.
If you've ever wondered how the other developers make EE jump through hoops and roll over, this is your event.
And if you also happen to wonder what EE developers look like in person, well, don't miss this.
The EE Roadshow is an event for ExpressionEngine users and developers. It is part training, part brainstorming, part networking and all wonderful. ExpressionEngine's online community is friendly and productive and supportive, one of the best on the Internet. The EE Roadshow is our way of bringing ExpressionEngine users and developers together in a real-world way.
The Details
Friday, September 26th
Vancouver, BC
1-5 p.m. (then stay for the part-ee!)
$50 per person
That gives plenty of time for you out-of-town folks to arrive, and gives the folks in town a great way get out of the office early.
Other training events can cost hundreds of dollars. Our low price: $50. That's just the price of one cup of $50 coffee! Why wait? Register today!
Check out the eeRoadshow sessions. We are covering everything from basic EE setup to developing your own custom module. And there'll be special guests from EllisLab (the folks behind ExpressionEngine), as well as interesting prizes.
About EE Roadshow
The first ever EE Roadshow is brought to you by Boxcar Marketing, Venn Communications and Hop Studios, three passionate EE development companies who want to help bring ExpressionEngine to every website in the world.