Our Beginnings
Since the turn of the century (why does this sound like the beginning of a butter commercial?), the approach of Hop Studios has always been good, clean and fun. Like many Internet pioneers, we started in a spare bedroom in Pasadena, California, back in 2001. Check out the very first Hop Studios website on the Internet Archive.
Our first clients usually had self-built, quickly sprawling sites that needed a calming touch of technology and a dose of timeless design expertise. We worked hard to develop long-term, direct relationships with clients; many have been with us for a decade or longer.
In 2005, founders Susie Gardner and Travis Smith moved from California to the Frozen North, though it turned out not to be as frozen as they'd imagined since it was Vancouver, Canada and not the Yukon!
Susie's brother Matt also came to Vancouver, becoming Hop's employee #3 as our first full-time designer. Since then, the team has grown over time with developers, database admins, designers, project managers, and the admin staff that provides the critical framework for any organization.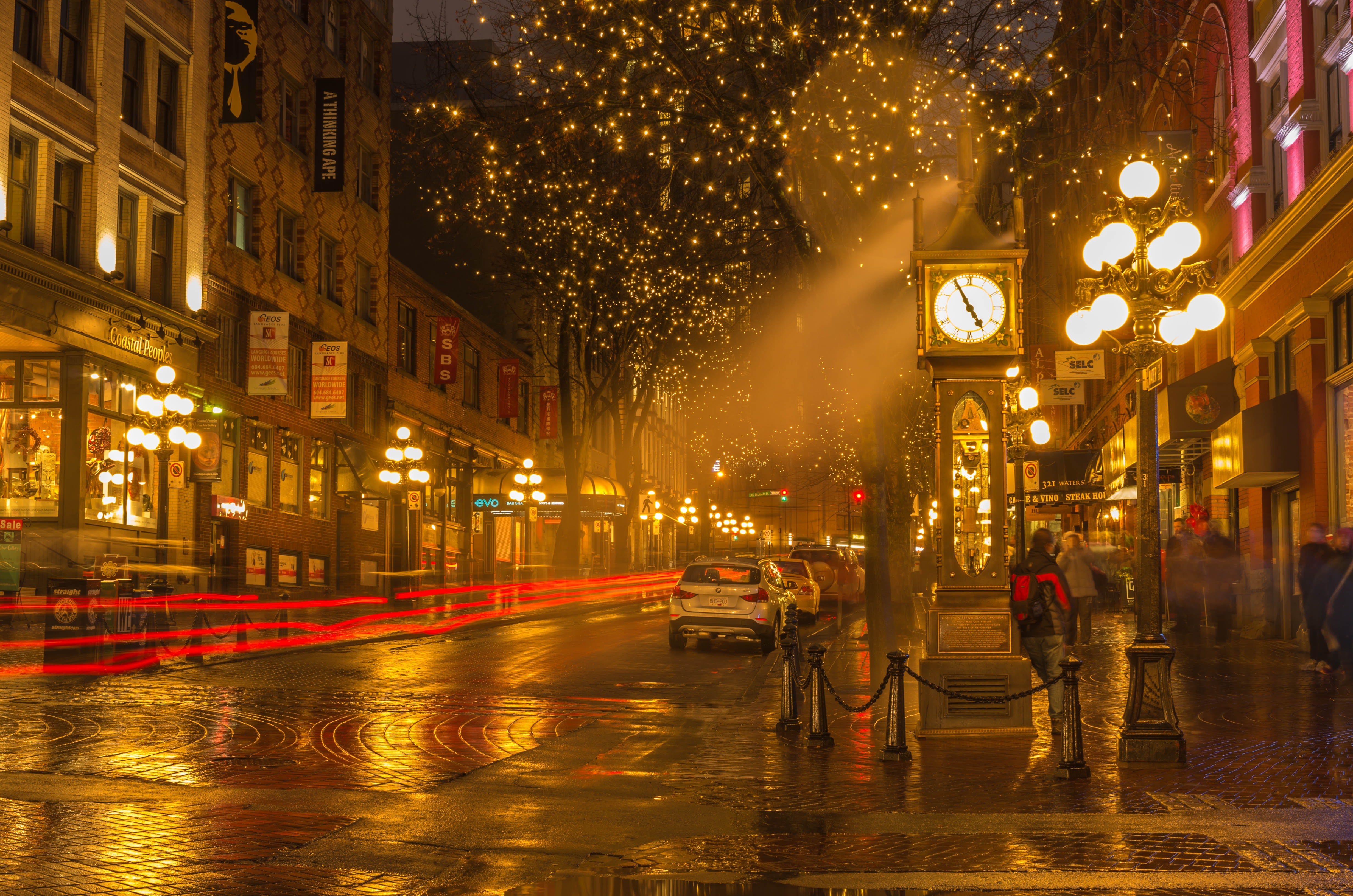 Hop Studios was based out of the founders' home for a decade until 2011, when the company moved into a modern-yet-retro commercial office space built in an old warehouse in Vancouver's Gastown neighbourhood.
It was during this stretch that site we've worked on won Webby awards:
We have added on (and left behind) many additional expertises over the years: Dreamweaver, Cold Fusion, Flash, online journalism, blogs, BitTorrent, email lists (majordomo, Campaign Manager, the monkey one), Moveable Type, ExpressionEngine, Craft CMS, WordPress, Facebook, PHP, CodeIgniter, accessibility, internationalization, page speed performance, search engine optimization and search engine marketing, Google Adwords, Google Apps I mean G Suite I mean Google Workspace… the list is nostalgic but hardly comprehensive.
The Covid pandemic turned the page for us to a new chapter in Hop's story. While we did have a few employees in other locations before 2020, we became an entirely virtual organization in August of that year. Vancouver, Canada, is still our home base (and Pacific Time is our standard timezone), but we are based in more than a handful of cities and have been able to add some genuinely stellar clients and team members because of that.
Travis is now the sole owner of Hop Studios, but Susie still works here, and our initial values remain firmly in place. We provide good work on all the internet tools you use to create your internet presence. We clean and organize whatever we work on so that you can focus more on your goals and expertise. And we try to make things fun along the way.
But Why Hop?
In his journalism days, Travis had a column called Hot Off the Presses (HOP), sadly not online anywhere. When it came time to name the business, we knew we wanted to create a studio-type business where creativity and interconnectivity were the norm, instead of pigeon-holing ourselves to one particular type of work, hence: Hop Studios
But Why the Duck?
Here's another thing we get told a lot: Ducks don't hop. So why on earth does your logo have the side profile of a duck?
This is truly a "happy accident". In the very beginning (and still today), all of our clients made it clear they wanted their site designs to be "clean."
Meanwhile, Hop Studios had a simple website with a business name and no logo. (Who has time to make a logo when you have clients lining up?)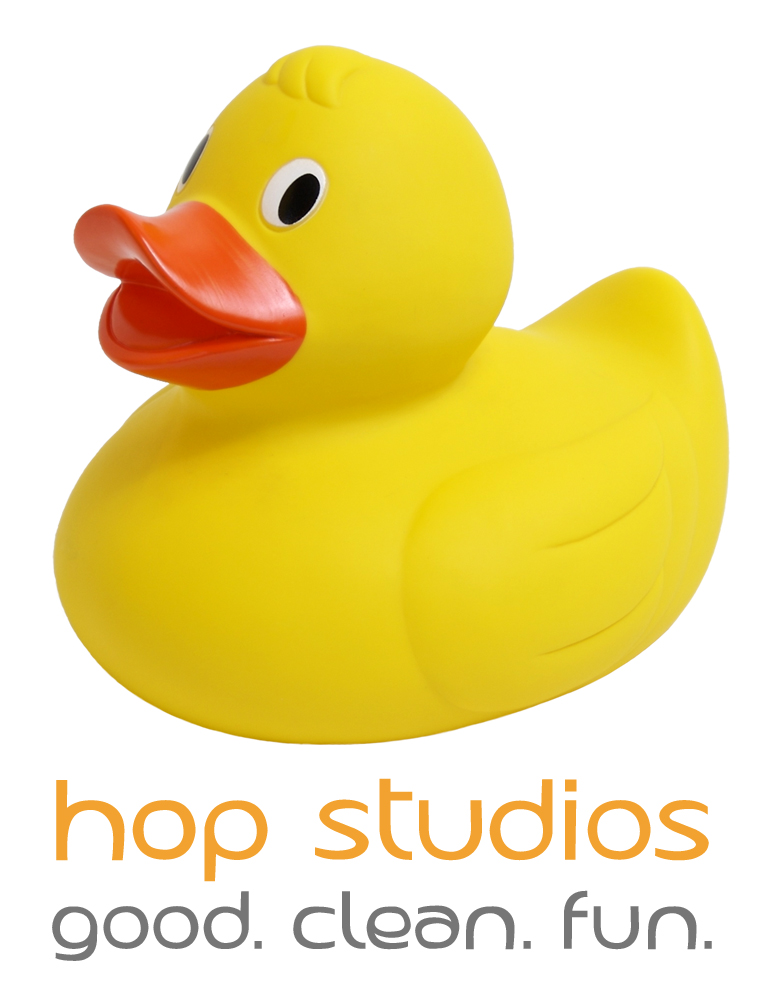 On the playful version of the company website Susie eventually designed, each page had an image related to bathing: a tub, a bar of soap, a rubber duck, and so on. What we noticed, though, was that the duck image really resonated with people. They'd say, "Oh, you're the duck company!", and we'd agree! It became clear that the duck got across what was unique about who we were: quick swimmers, quirky, willing to speak up, … and even foreshadowed migrating north, maybe? So we listened to our audience, and before long, we promoted the rubber duck to be the official Hop Studios logo.
After moving to Vancouver, Hop Studios did a rebrand. Susie found a gorgeous and enormous rubber duck in the Denver airport gift store. She carted this massive rubber duck home to Vancouver and turned it into a new logo. A custom Hop Studios font was also created at the time and was integrated into the logo.
In 2015, we rebranded to the current logo and site design. We wanted to express that we were becoming more corporate and professional and modern… but we just couldn't shake that bird, who snuck back into the logo as a reminder of our history. And there Frank William remains today. (Yes, our duck is Bill.)