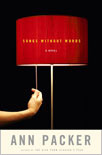 Hop Studios has done a number of book and author websites in the past year, and we've really enjoyed them. Authors are great to work with, and boy do they have excellent content!
Our latest client is Ann Packer, whose novel The Dive from Clausen's Pier spent a long-time on the New York Times best-seller list and was made into a Lifetime TV movie. Her next book is Songs Without Words was published this week!
Ann's website was fun to build—we focused on her books, putting up reviews, reading guides and other tidbits. The site is a good resource for her readers, but we didn't forget about the media, either! The press kit includes a list of upcoming appearances and a high-resolution image of the Songs Without Words book cover.
Ann wanted to be able to make changes to the site herself, especially as reviews of the new book are written, so we used the content management system ExpressionEngine to build her site, which means Ann can make text changes easily without getting mired in a ton of HTML code.
Check the site out—better yet, go ahead and buy a book (you can do that on the site, too)!